Regular price
Sale price
£95.41
Unit price
per
Couldn't load pickup availability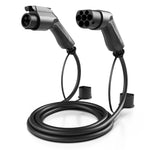 Regular price
Sale price
£95.41
16 Amp (3.6kW) / 5 Metre
Our charging cables are of the highest quality and standard.

They allow you to charge your car from any public or home EV charging point and come in 5 or 10 metres to suit all your needs. 
The Type 2 end of this cable must always be plugged directly into a charge point socket, this can not be used as an extension or an adaptor to a tethered lead. 
16/32 Amp single phase at 3.6/7.2 kW

Type 1 (SAEJ1772) to Type 2 (IEC62196 / Mennekes)

5/10 metre long Lightweight and ultra-flexible easy to store and transport.

Long lasting and reliable

IEC certified

TUV certified

CE compliant

IP54 rated

J1772 plug complete with padlock facility (padlock available in options)

Operating voltage 240VAC

Tested to 2,500 VDC

Operating temperature range -30C to +60C

Hard-wearing, polybutylene terephthalate (PBT) handle

Copper alloy contacts
This cable comes with Type 2 and Type 1 connectors. The Type 2 must be connected to the charge point socket and Type 1 to your car.

Disclaimer: The look might slightly differ to the pictured cable. All function and specifications are the same.

OneStop Europe Ltd Delivery Information  
FREE UK delivery on orders over £100 + VAT (some exclusions apply)
A free next working day delivery service is available to UK customers (some exclusions apply for next day delivery). Orders under £100 (incl. VAT) are subject to a delivery charge of £8.50 (excl. VAT). Orders placed before 1pm will arrive next working day, if orders are placed after 1pm these orders will be sent next working day and arrive the following day (excludes weekends). We are however committed to always providing the shortest lead-time possible. On occasion orders may take more than the standard 24 hours, due to all products being bespoke manufactured upon order, there for quantity and an increase of daily orders may affect these times scale.
Dispatch of goods & delivery
We shall dispatch your Goods by carrier. UK based customers Goods are normally dispatched on day of receipt of order this only applies to products with a next day timer on the product page. EV units will usually take 3-5 days to arrive. Specialist carrier delivery normally ensures next day UK delivery of the Goods excluding Bank Holidays if the order is placed before 1pm Monday to Friday. Orders shipped overseas will take longer, please contact us for estimated delivery time to your specific country.
The charges for our delivery
EV OneStop offer a variety of delivery charges, depending on the service you require and location. Simply enter your delivery location into the shopping basket 'shipping quote' for available delivery charges to your location. Free delivery is available for many locations. Saturday deliveries can be arranged on request. We shall be under no liability whatsoever for any delay in delivery or a failure to deliver or the consequence resulting from such delay or failure that is caused by an event outside our control or your failure to provide us with adequate delivery instructions or any other instructions that are relevant to the supply of the Goods. We will let you know if we become aware of an unexpected delay and will arrange a new delivery date with you. If you fail to take delivery of your order on the agreed date, then we will store the Goods until delivery takes place and may charge you a reasonable sum to cover any redelivery expenses incurred by us. In the rare event that we are prevented or fail to deliver the Goods, our liability (and your sole and exclusive remedy) for such non-delivery will be limited to us replacing the Goods within a reasonable time or refunding the price paid by you in respect of such Goods. Notwithstanding it is your responsibility to check that the Goods delivered are in full working order before they are included in any other product or part or are sold onto a third party. We make no warranty or representation that the Goods are made for any particular purpose and are under no liability whatsoever if the Goods purchased by you do not fit the purposes for which you purchased them for. Each delivery of the Goods shall be accompanied by a delivery note detailing the order specification.
This cable has a type 1 socket for your car. Suitable for the following cars:

Chevrolet Spark
Chevrolet Volt
Citroen C-Zero
Citroen C-Zero
Ford Focus Electric (2017)
Mia Electric Van
Mitsubishi I Miev
Mitsubishi Outlander Phev
Nissan Leaf (2011)/(2015)
Nissan Leaf 2012 - 2017
Nissan NV200 SE Van
Nissan e-NV200
Peugeot Ion
Peugeot Partner Electric (2017)
Peugeot iOn
Renault Fluence
Tata Indica Vista EV
Vauxhall Ampera
Choosing a selection results in a full page refresh.